Guides
Destiny 2: How To Get The Firefright Auto Rifle (& God Rolls)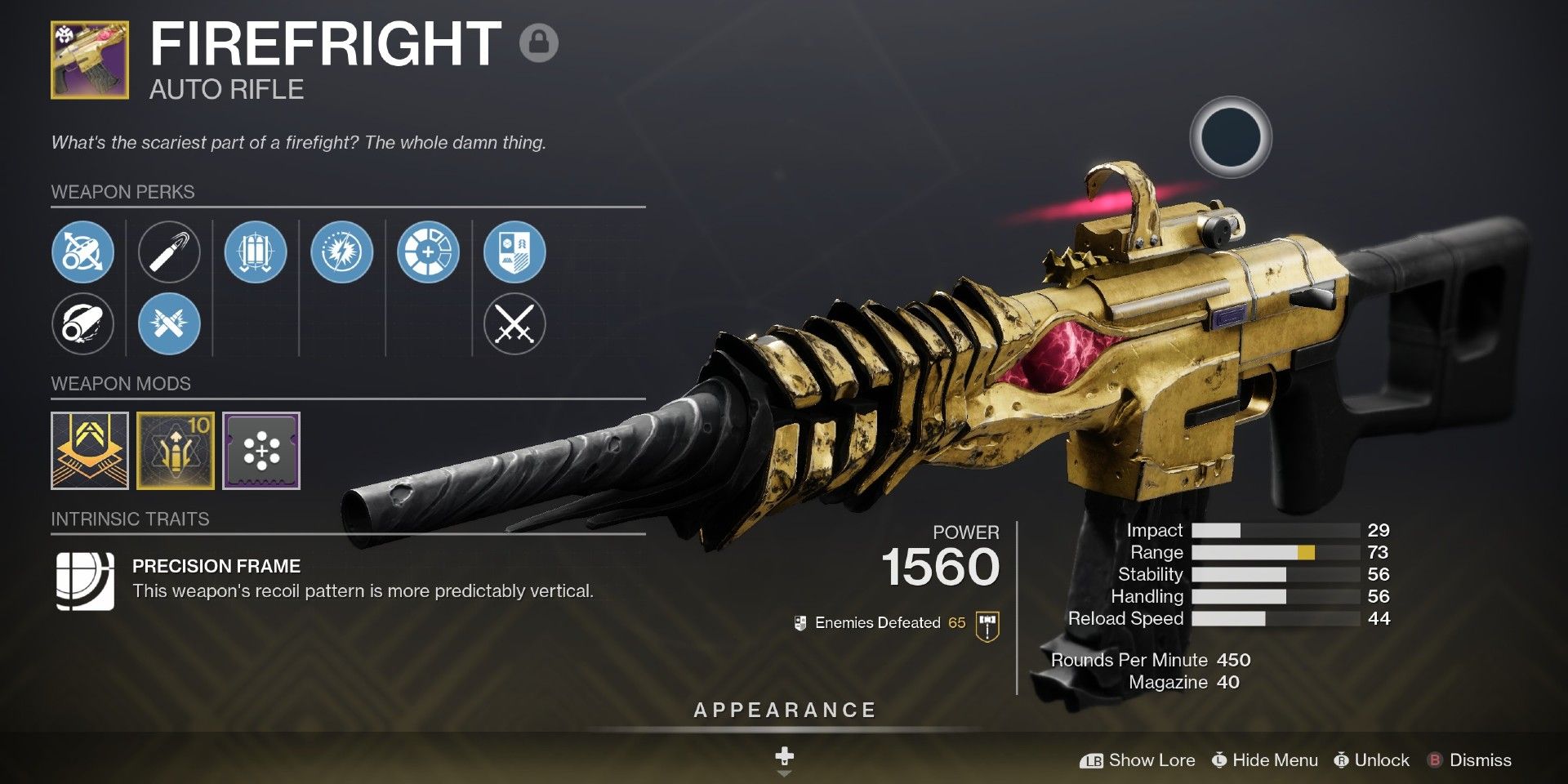 Firefright's strengths come from the weapon's predictable recoil pattern and stability, so the best barrel and magazine mods will complement those strengths as well. Fortunately, there are a lot of solid options for both perks in PvE and PvP activities in Destiny 2. For the barrel, Guardians should seek a Firefright with either Arrowhead Brake, Fluted Barrel, Smallbore, or Hammer-Forged Rifling, but PvE rolls can also use Extended Barrel or Corkscrew Rifling. Additionally, players should get a roll with either Ricochet Rounds or High-Caliber Rounds for the magazine perk for Crucible, Gambit, Vanguard, and other Destiny 2 activities, but the PvE Firefright rolls can also use Appended Mag.
1. Fourth Time's The Charm/Adagio – Fantastic perk combination for both PvE and PvP activities, though Fourth Time's the Charm is better suited for PvE.
2. Fourth Time's The Charm/Osmosis – Osmosis is a good endgame activity perk where the Match Game mission modifier is active.
3. Threat Detector/Surrounded – This perk combination synergizes nicely with each other where large groups of enemies are present in PvE activities.
4. Threat Detector/Adagio – Great option for both PvE and PvP activities as well.
5. Threat Detector/Elemental Capacitor – Elemental Capacitor is better suited for PvP activities, and the increase in reload speed compliments Solar 3.0 builds in Destiny 2.
Destiny 2 is available on PC, PlayStation 4, PlayStation 5, Xbox One, Xbox Series X|S, and Google Stadia platforms.