Entertainment
Doctor Strange 2 Concept Art Shows Professor X In Scarlet Witch's Mind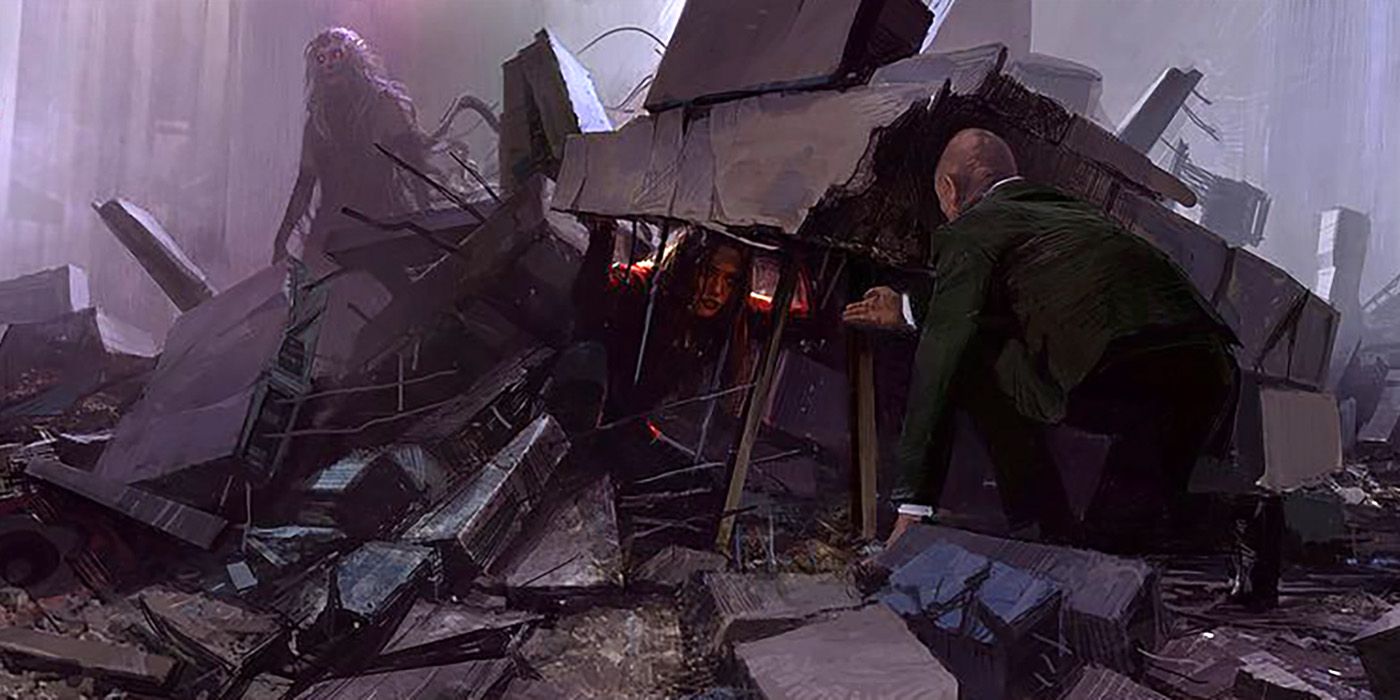 New concept art for Doctor Strange in the Multiverse of Madness shows Professor X inside Scarlet Witch's head. Sam Raimi's MCU film continues Benedict Cumberbatch's arc in the franchise after the events of the Infinity Saga and Spider-Man: No Way Home. However, this time, he was faced with a former ally as Wanda Maximoff embraces her Scarlet Witch persona and attempts to wreak havoc in the multiverse.
Long before Doctor Strange in the Multiverse of Madness' release, there was already an expectation that it would feature a string of cameos. Thanks to its multiversal narrative, Marvel Studios was able to bring in guest stars without any significant ramifications to the MCU's established timeline. That's where Earth-838's Illuminati comes in, albeit with a slightly different roster compared to its Marvel Comics counterpart. The team is composed of Captain Carter (Hayley Atwell), Mordo (Chiwetel Ejiofor), and Maria Rambeau's (Lashana Lynch) Captain Marvel with Black Bolt (Anson Mount), Mister Fantastic (John Krasinski), and Professor X (Patrick Stewart). While Marvel Studios kept the line-up under wraps until the film's release, the studio confirmed Stewart's return as early as the movie's first trailer.
SCREENRANT VIDEO OF THE DAY

A newly released series of concept art for Doctor Strange in the Multiverse of Madness from Alexander Mandradjiev on Instagram reveals the original idea for Professor X's attempt to save Earth-838 Wanda from her Earth-616 counterpart. In the images, Charles tries to get Earth-838 Wanda out of the rubble as he gets inside Scarlet Witch's head while she dream walks. Check out the images below:
View this post on Instagram
Click Here To See The Original Post.
Looking at these images, it appears as if Marvel Studios largely stuck to the original concept for the scene. Aside from the fact that this moment in Doctor Strange in the Multiverse of Madness is set in a better lit setting, it is almost accurately depicted on the big screen. It's worth noting that concept artworks aren't always adapted into films. Some are scrapped and never even shot, while others are altered during the filming day, editing, or even reshoots. So, it's pretty impressive to see this pivotal moment stay the same from its inception on paper to the actual movie.
This scene in Doctor Strange in the Multiverse of Madness is arguably one of the most terrifying moments in the film. At this point, Scarlet Witch has already killed all the other members of Doctor Strange's Illuminati team from Earth-838 in pretty easy ways. But the fact she could get inside Professor X's head and ruthlessly snap his neck was such a great way to highlight just how powerful Wanda has become. With Stewart's MCU multiverse character now dead, it's curious if there's any way to see him back in the franchise.
Source: Alexander Mandradjiev/Instagram