Game
Pokémon TCG's Best Astral Radiance VMAX Cards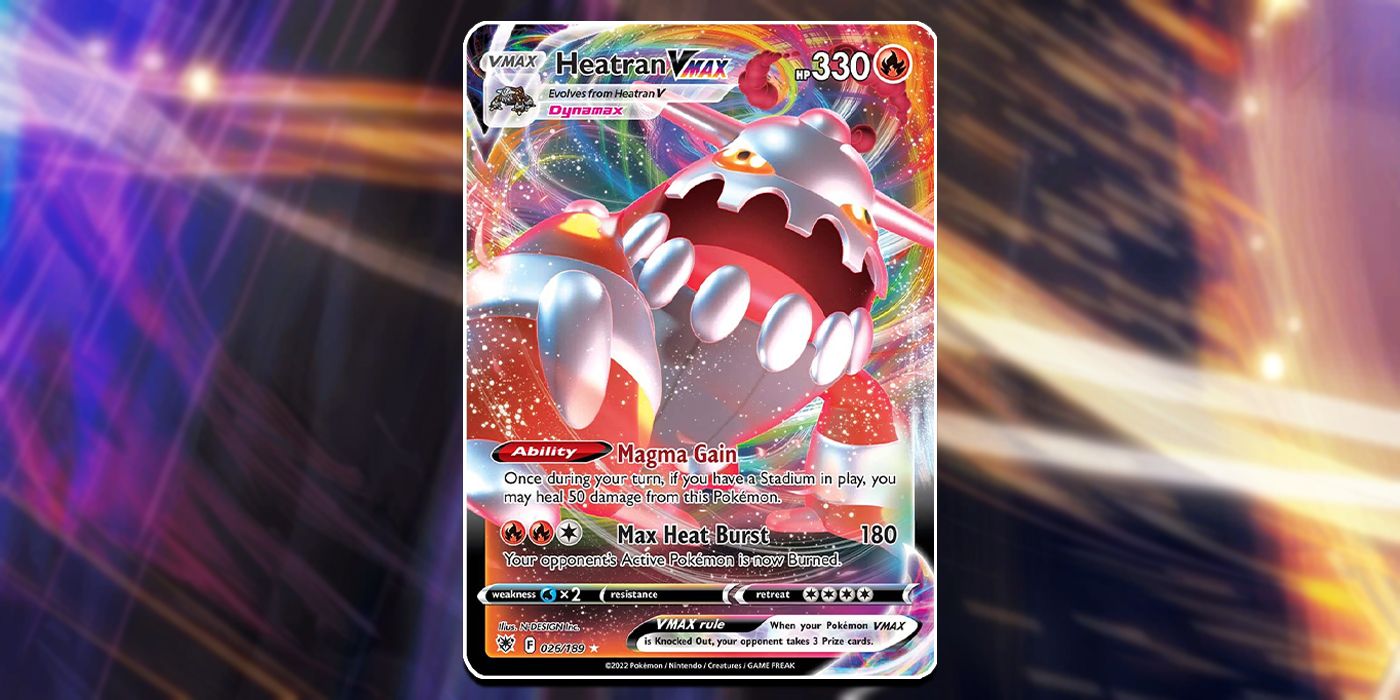 Originally making its debut in 2006's Pokémon Diamond and Pearl, Legendary Pokémon Heatran makes its return in the Astral Radiance TCG expansion. Fans of the Lava Dome Pokémon will love its VMAX debut, as it features the fierce Fire/Steel-type Pokémon roaring into action with its epic giant form. In Diamond and Pearl, players could encounter Heatran after completing a post-game side quest inside of Stark Mountain. Despite releasing decades ago, the lava Pokémon has had a revival in popularity after being featured in the 2021 Sinnoh Remakes Pokémon Brilliant Diamond and Shining Pearl, as well as Pokémon Legends: Arceus.
Pokémon Astral Radiance' Rainbow Heatran VMAX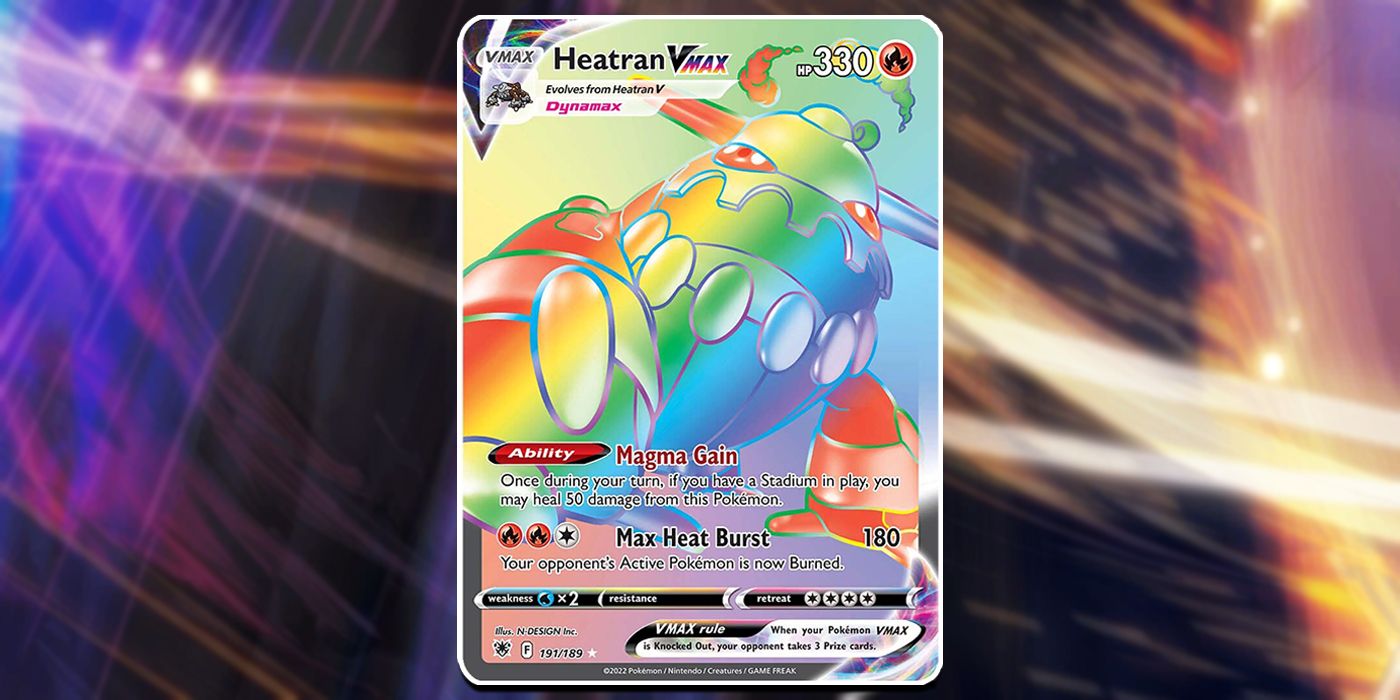 First introduced in the Pokémon Sun and Moon TCG Base Set in 2017, the stunning rainbow card variant has become a staple in every Sword and Shield and expansion. Players looking to collect an even rarer version of the VMAX Heatran can try to pull the Secret Rare rainbow-textured version of the Diamond and Pearl Legendary from Astral Radiance.
VMAX Machamp Astral Radiance Card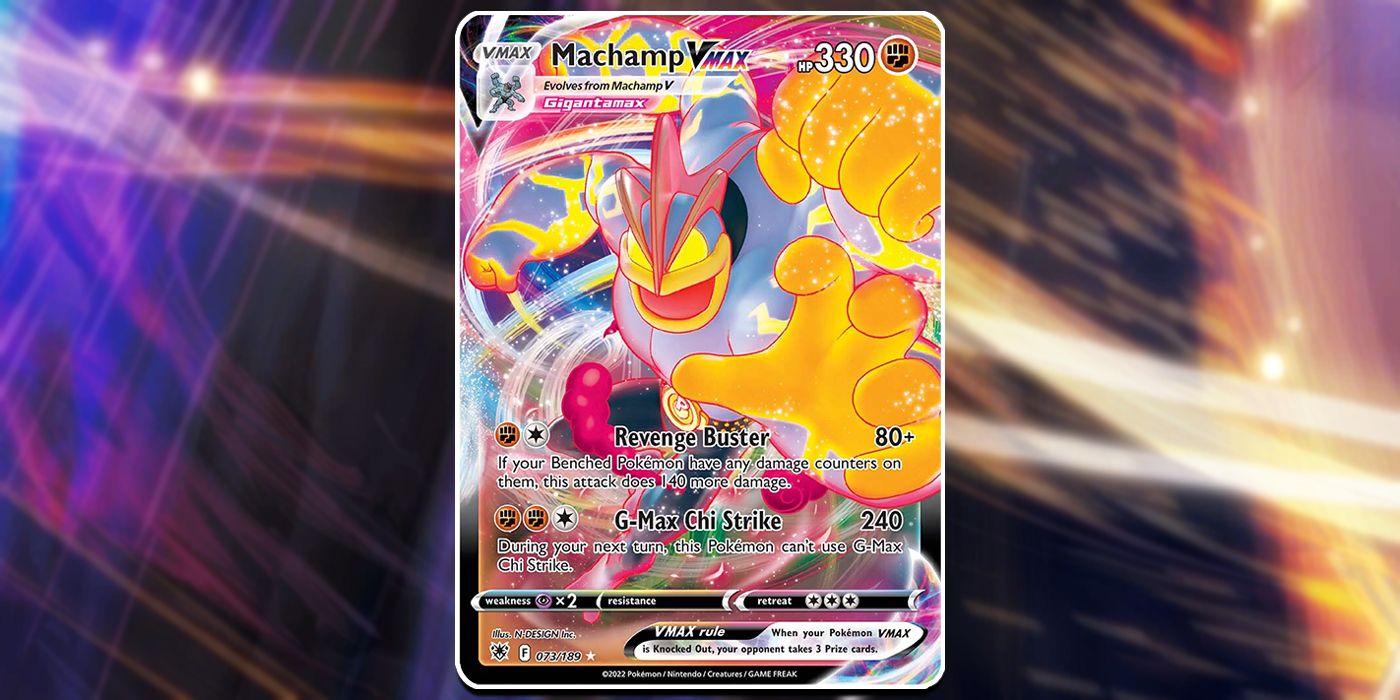 When the Pokémon TCG originally launched in North America in 1999, many players' first holographic Pokémon card ever was Machamp from the Base Set. Decades later, the four-armed Fighting-type is still one of the series' most popular Pokémon. In Astral Radiance, players will be able to pull Machamp as a rare VMAX card in its Gigantamax form.
Machamp's altered form is a result of Pokémon Sword and Shield's Gigantamax feature, which transformed Pokémon into brand new designs. While every Pokémon in the Galar region could turn into giants with the Dynamax mechanic, only a select few Pokémon such as Machamp could actually Gigantamax.
Machamp VMAX Rare Rainbow Card In Astral Radiance TCG expansion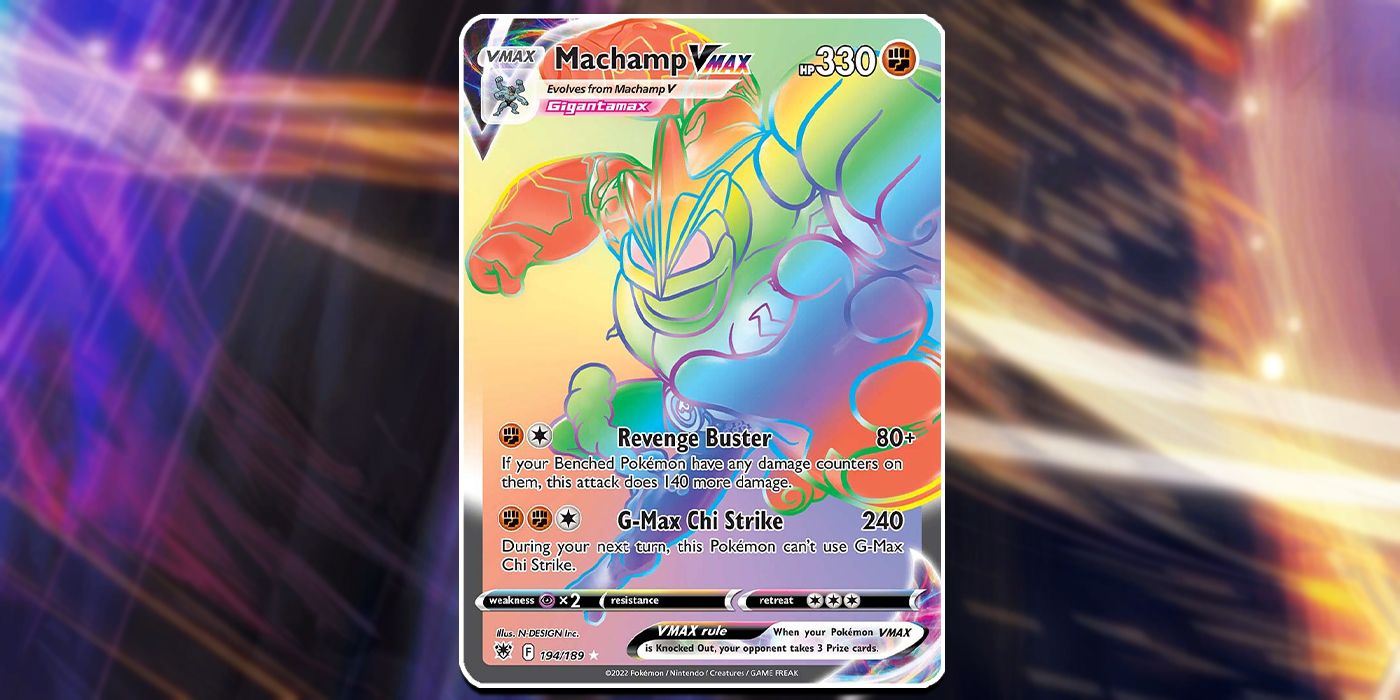 Just like Diamond and Pearl's Heatran, the TCG expansion also includes a rainbow version of the Machamp VMAX. The Kanto Pokémon's change into its Gigantamax form is made all the more epic with the rainbow version of the card. Next to Heatran, Machamp is the only other Secret Rare VMAX Rainbow card in the May TCG set making it a great collectible for players to track down.
Ice Rider Calyrex Astral Radiance Trainer Gallery Card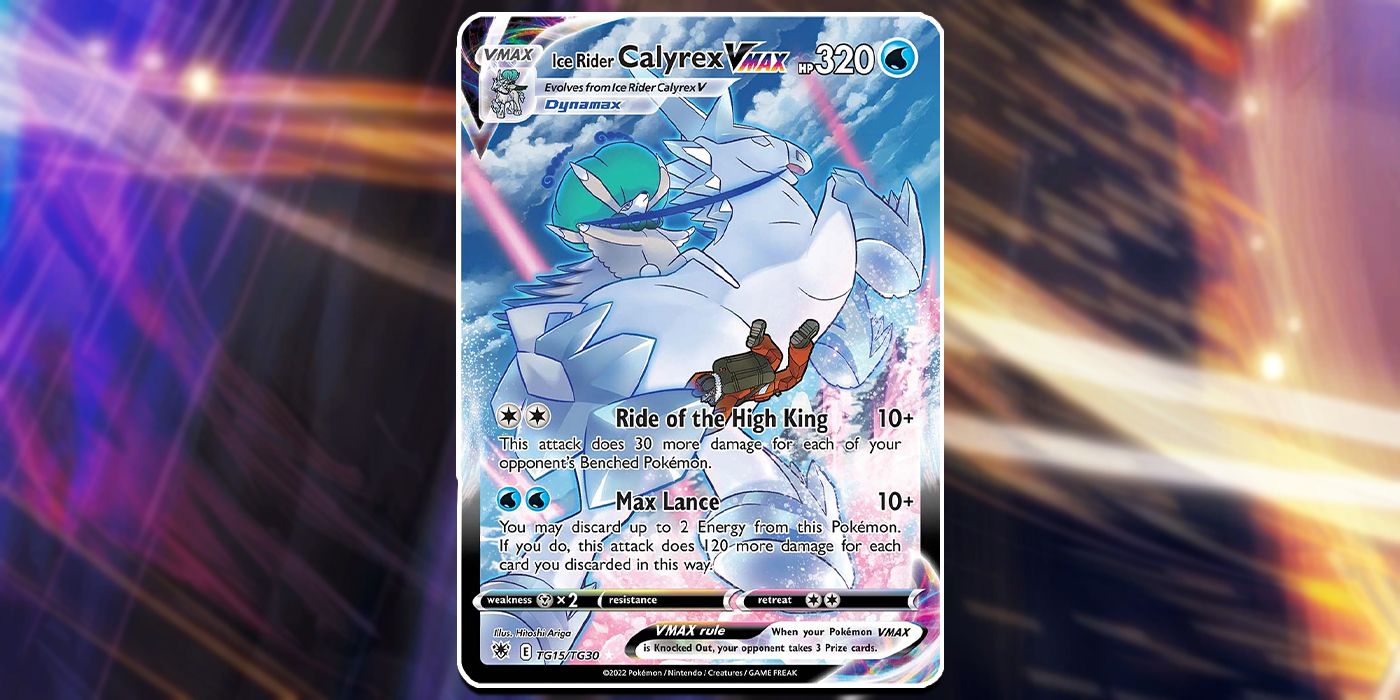 Although the Astral Radiance TCG set only has 189 cards in its main setlist, the Sword and Shield expansion also includes an additional Trainer Gallery subset featuring full art cards. Originally released in the Japanese set VMAX Climax, international TCG players can now get their hands on the stunning Ice Rider Calyrex VMAX card.
The TCG cards VMAX artwork depicts trainer Peony desperately trying to hold on to Ice Rider Calyrex as it takes off across a snowy mountain. The hilarious scene is inspired by the Pokémon Sword and Shield DLC The Crown Tundra, which introduced both the new NPC and Legendary Pokémon in the Galar region expansion pass in 2020.
Astral Radiance Trainer Gallery Shadow Rider Calyrex Card
Pokémon TCG players will also be able to collect Calyrex secondary Shadow Form in Astral Radiance. The Trainer Gallery card shows Shadow Rider Calyrex galloping across the Crown Tundra with a stunning aurora night sky in the background. The Pokémon Sword and Shield protagonist can be seen floating in the air next to the Legendary Pokémon in this beautiful VMAX card.
In the Crown Tundra DLC, players are given a choice between Calyrex being reunited with its Glastrier or Spectrier horse. Whichever steed the players pick, determines the Pokémon-type of Calyrex. The Legendary is then able to use the Pokémon Sword and Shield fusion feature to be transformed into Shadow Rider Calyrex. The rare VMAX card captures one of the Galar region's most iconic moments and will be a card every collector is going to want to try to pull.
Shadow Rider Calyrex Black and Gold Astral Radiance TCG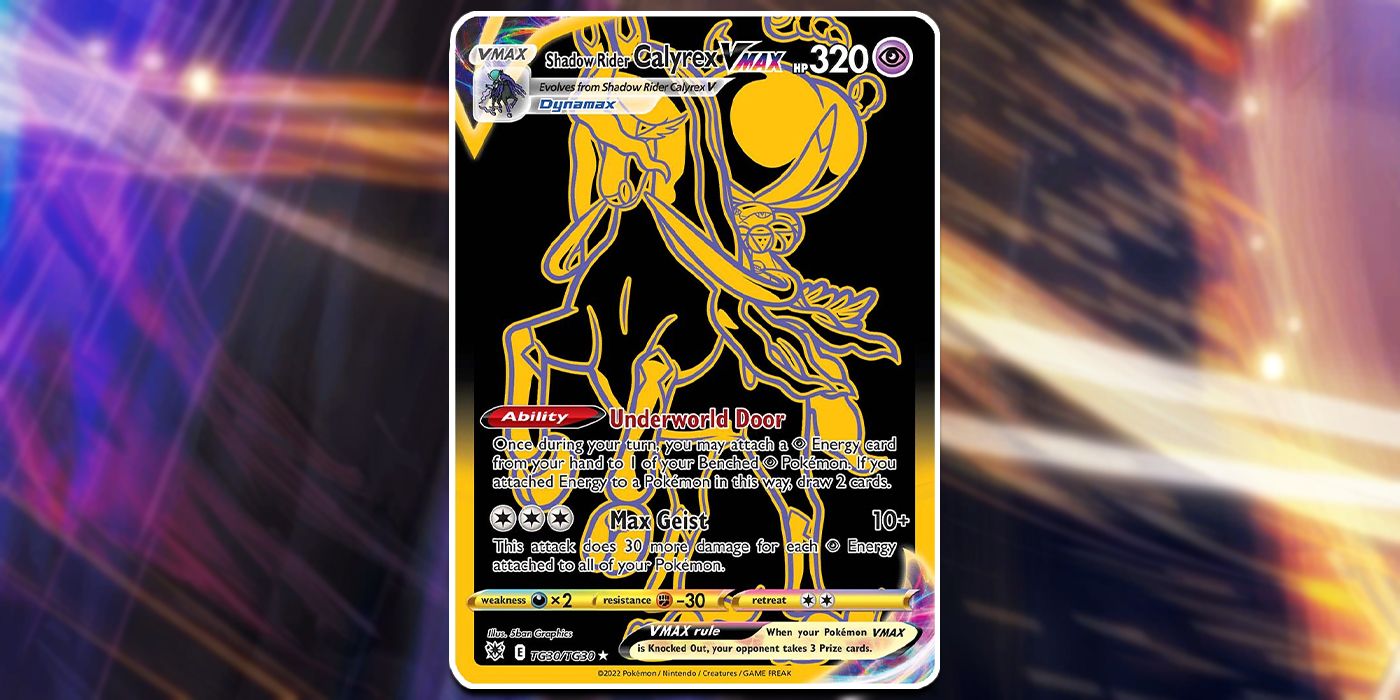 To celebrate the first year of the Pokémon Sword and Shield TCG series, the Pokémon Company released a special Ultra Premium collection box set. The limited-edition collection featured a black and gold version of the Zacian V card found in the Pokémon Sword and Shield TCG base set. Crown Tundra Legendary Shadow Rider Calyrex got a similar treatment in Astral Radiance, as a secret rare VMAX card.
The secret rare VMAX card has a silhouette artwork of the Gen 8 Pokémon, which pops with its piercing black background and sparkling gold textures. Its unusual design compared to other rare cards has made the black and gold Pokémon cards highly sought after by both players and collectors.
Astral Radiance Black and Gold Secret Rare Ice Rider Calyrex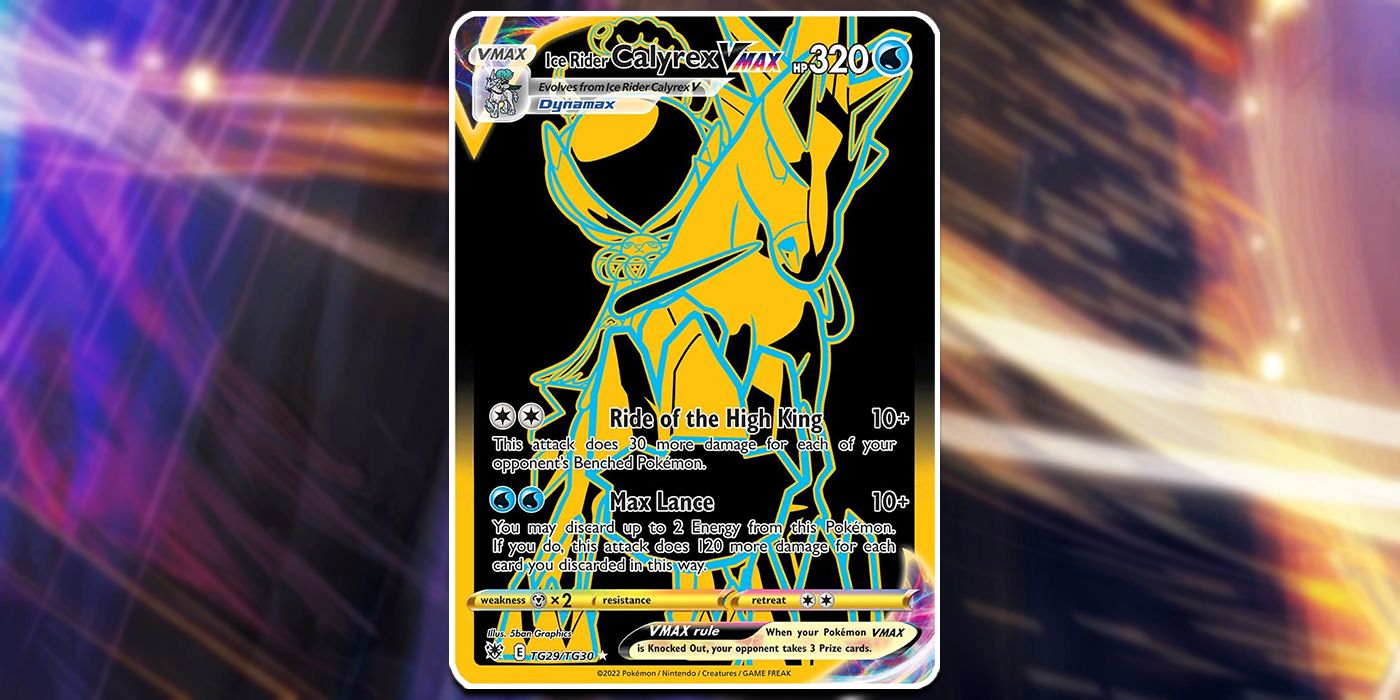 Just like Shadow Rider Calyrex, TCG players will also be able to pull a black and gold version of the Legendary's second form Ice Rider. Although Calyrex only made its debut in the Galar region RPG, the Psychic-type is already massively popular due to being one of the Pokémon Sword and Shield's most powerful Legendaries due to its dual rider forms.
While the most sought-after cards in the Astral Radiance TCG expansion will be the VSTAR and Radiant cards, many players will still want to collect the set's rare VMAX Pokémon to complete their Sword and Shield collection. Following the release of Astral Radiance in May, the next Pokémon Trading Card Game will be based on the Japanese set Dark Phantasma.